Wigan has a history of offering impossibly moreish sweet treats to its residents. But Uncle Joe has nothing on the self-styled "Willy Wonka of Wigan" – Amy Forster.
Amy's online sweet shop Sweet Life began trading in November 2019. It offers pick and mix, pre-mixed bags and "Little Extras" such as chocolate bars for delivery or collection.
Amy says: "I decided to start Sweet Life because I was in a job that I wasn't really enjoying. I started working out of my mum's kitchen and sold my products on social media."
Things had to change
As the Sweet Life website says, "staying in is the new going out". When the pandemic hit, orders went through the roof as people hankered after some sugary comfort. 
Amy recalls: "Sales just skyrocketed! Orders doubled, if not tripled. We found people from further afield started placing orders."
Dealing with hundreds of orders via social media messages was difficult to manage. So Amy decided to adapt her business. 
With the help of her partner, she set up a unit in Springfield and changed her working practices to cope with demand. 
Amy explains: "The pandemic meant deliveries were delayed – some packages took weeks to arrive. So we started using DPD couriers, which improved the speed of deliveries. 
"I also had a website that I'd started taking orders through, but it didn't quite have the look and feel I wanted. That was when I got in touch with a local business network.
"Someone recommended Jackie at Attain and she helped me massively."
The golden ticket
The website now has a bright, vibrant look, characterised by the sweet "heart" logo and close-up photos of sweets. It is easy to navigate through, giving customers simple choices on the home page before showing them a wide range of sweet delights. 
Amy's top tip for small business owners is to ensure your website is both functional and looks great. 
Amy added: "Jackie was great. She listened to what I wanted. The changes which Attain made to the website really hit the nail on the head. It looks really smooth now."
As a result of the website changes, orders now come in more consistently – allowing Amy's working day to be more easily structured. 
The future looks sweet
With business booming in the run-up to Christmas, Amy has further established the business by taking on a new member of staff and investing in bespoke packaging. 
Vouchers deals with partners including Wowcher have also helped boost the brand.
Amy added: "We're looking forward to going to events again in 2021, and introducing the new packaging. The business is growing and in the future we'd like to take Sweet Life products into retail outlets. That's our goal!"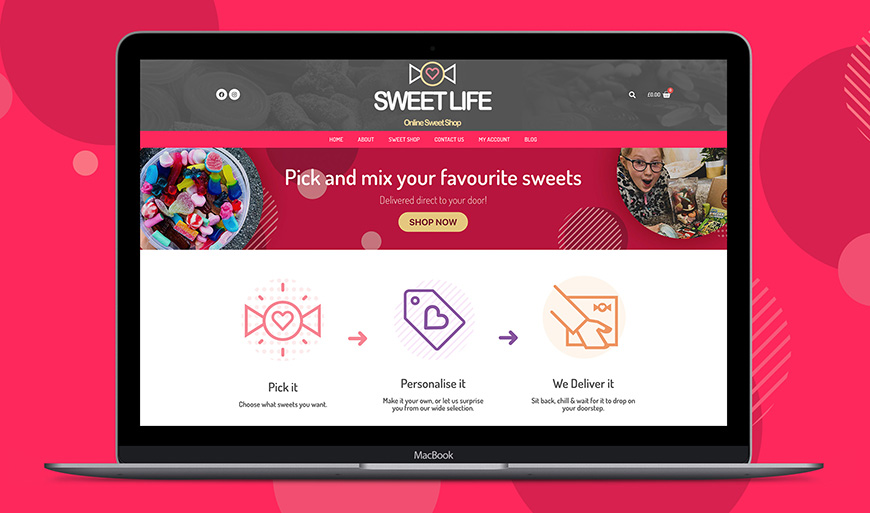 Dream big 
When asked for her advice for small business start-ups, Amy has some words of wisdom: "Dream as big as possible and run with what you believe in.
"Do your own thing, invest time (a lot of it!) and take risks. Sometimes they pay off, sometimes they don't – but that's part of the process. 
"Don't be scared to ask for help. Running a business is not easy. The advice I sought at the start was from my partner who inspired me to take the risk of leaving a 'secure' job which robbed me of my day-to-day happiness. Now I'm living the sweet dream!"
If, like Amy, you'd like a scrumdiddlyumptious website that helps your business grow, get in touch with our Digital Services team to see how we can help. 
Links: 
https://www.sweetlifesweetshop.co.uk/