As a business owner, web accessibility should be the bread and butter of your website.
It is a legal requirement for businesses under the 2010 Equality Act – And it allows you to maximise your market share and make your website welcoming to all potential customers.
But, if you've never heard of accessibility before, it can be quite confusing…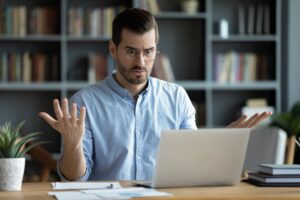 So, we're going to cover what it exactly means to be "accessible" and give you some practical tips and tricks you can implement to create an inclusive website:
---

What is accessibility in website design?
Website accessibility assures websites are designed with disabled people in mind.
So, they can access the same information that non-disabled people can, without barriers.

You can find a variety of recommendations for improving website accessibility in the Web Content Accessibility Guidelines (WCAG). These include accommodations for blindness, low vision, hearing loss, restricted mobility, language difficulties, deafness, and more. But, can also help with the web content's general usability.
Typical website accommodations

are characterised by 

The 4 WCAG Principles:
Perceivable: All visitors should be able to read and see your website content clearly.

Operable: All visitors should be able to simply navigate your website AND on any device.
Understandable: All visitors should have access to content that is easy to understand and displayed in an organised manner.
Robust: All visitors should be able to use a wide range of assistive technology (tools to support people with disabilities) when accessing your website.
Source: https://www.w3.org/WAI/WCAG21/quickref/
---

Practical tips to make your website more inclusive:
Following these rules will make content more inclusive and enhance market share:
Images: Images and other non-text content should have an alternative text description (alt text), so they can read with a screen reader. 
Text: Text functionality should remain consistent when zoomed in. 
Videos/Audio: All multi-media content should have a text equivalent. Such as captions. 
Colour contrast: All text and images should have sufficient colour contrast for visitors with vision problems.  
Navigation: Site navigation should be available using solely a keyboard. 
This is not a definitive list but is a great kick–start to your website accessibility journey – And, to make sure that everyone feels included and valued as a customer on your website.
S

ign up

today

for

a

FREE 30-minute

 consultation

call to
discuss your website accessibility

ne

e

ds today! 

Click

here to book